Today is the one-week mark since kicking off the #iwillrockthis weight-loss challenge! I absolutely love the group of women who decided to join the competition. We talk all the time exchanging support, ideas, and recipes. It's been so super great. Today, though, I'm fearful that many of us might feel ultra-defeated because it's our first official weigh-in since the challenge started. For me personally, I'm trying to remember that we are all different and we are all following different diet and exercise plans.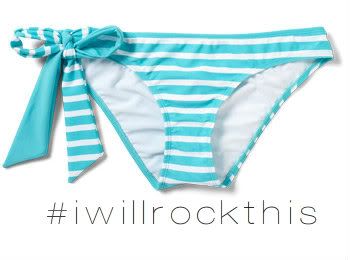 With that said, I KNOW I definitely
will not
be ranked in the top 10 with the biggest percentage of weight lost. While I started strong – counting calories, crazy cardio, and working out with a trainer – I ended the week on a very low note.
It started Sunday night when I treated myself to a cookie, or two, with the promise that Monday I would be back on track especially because Tuesday morning was weigh-in day. That kind of late night weakness is usually where every other diet has gone to shit. And that damn promise to myself. I promise I'll be good tomorrow. I promise I'll work out harder tomorrow. Does anyone else make these promises?
Yesterday started out like any other Monday morning. But, I was off. Instead of kicking the day off with a smoothie or something that would give me some lasting energy, I opted for a bagel and coffee. First bad choice. I was rushing to get out of the house and trying to corral the 4 year old who always seems to have other plans and wants to battle at the most inappropriate times. The vet appointment we had turned into a two hour shit storm. I was stressed out and livid at the news from the vet (but that's an entirely different post) , irritated that my kid wasn't cooperating during the appointment, and bothered that the doctor seemed annoyed that I had my kid in tow. Deep breaths. On the drive home I secretly wanted my girl to say she wanted Chik Fil A for lunch because I was ready to ditch my "no drive-thru edict" for a crispy chicken sandwich.
And then it hit me…when my life feels out of control I seek comfort through eating. Truth be told, I've kind of known this about myself for a long time. But it was crystal clear today.
Did this realization stop me from pigging out when we finally got home? No. I should have just made myself lunch but I ripped open a package of cookies, a chocolate bar, tortilla chips, a Twinkie, and a shit ton of almonds (which are supposed to be reserved for my healthy snacks). All that junk made me feel like crap. And I was still reeling from the vet appointment. I didn't know what to do with myself or how to manage my emotions. It was such a bizarre day. To top it off, I got hit will the guilt stick which left me in a funk all night.
Do you ever have days like this? How do you manage?
Later this week I'll have the results of the week one weigh-in!